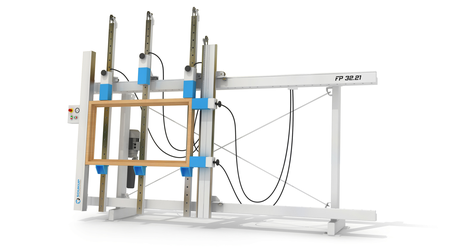 Hydraulic Press
Hydraulic frame press FP Series
A frame press for gluing rectangular frames with three vertical clamps and a lateral clamp with two pistons.
Hydraulic frame press FP Series
A frame clamp for gluing rectangular frames with three vertical beams and the lateral beam with two cylinders. The design of vertical beams enables to get closer to one another and allows gluing of very small frames. The frame press is electrically operated. The vertical beams are completed with locking pins, counterweight on chain for easier handling with pistons. FP-S 32.21 (3200x2100mm) upon request: FP-S 25.18 (2500x1800mm) FP-S 40.26 (4000x2600mm)
Specification
hydraulic clamping pistons (2000kg, 150mm stroke)
3 vertical clamps each with 1 piston (middle clamping piston fitted with a valve)
self-locking pin for vertical clamps
counterweights for easier handling
1 lateral clamp with 2 pistons
common electrically powered pressurising pump
Optional:
complete vertical clamp with a hydraulic cylinder for a central pump
swivelling plate for bevelled frames
front thrust for edge glued panels and laminating scantlings
Hydraulic Frame Press
Machine Gallery
Quick Shipping
Call for delivery options
Competitive Finance
Competitive rates on all types of finance
Here to help
If you have any questions or enquiries, please get in touch.