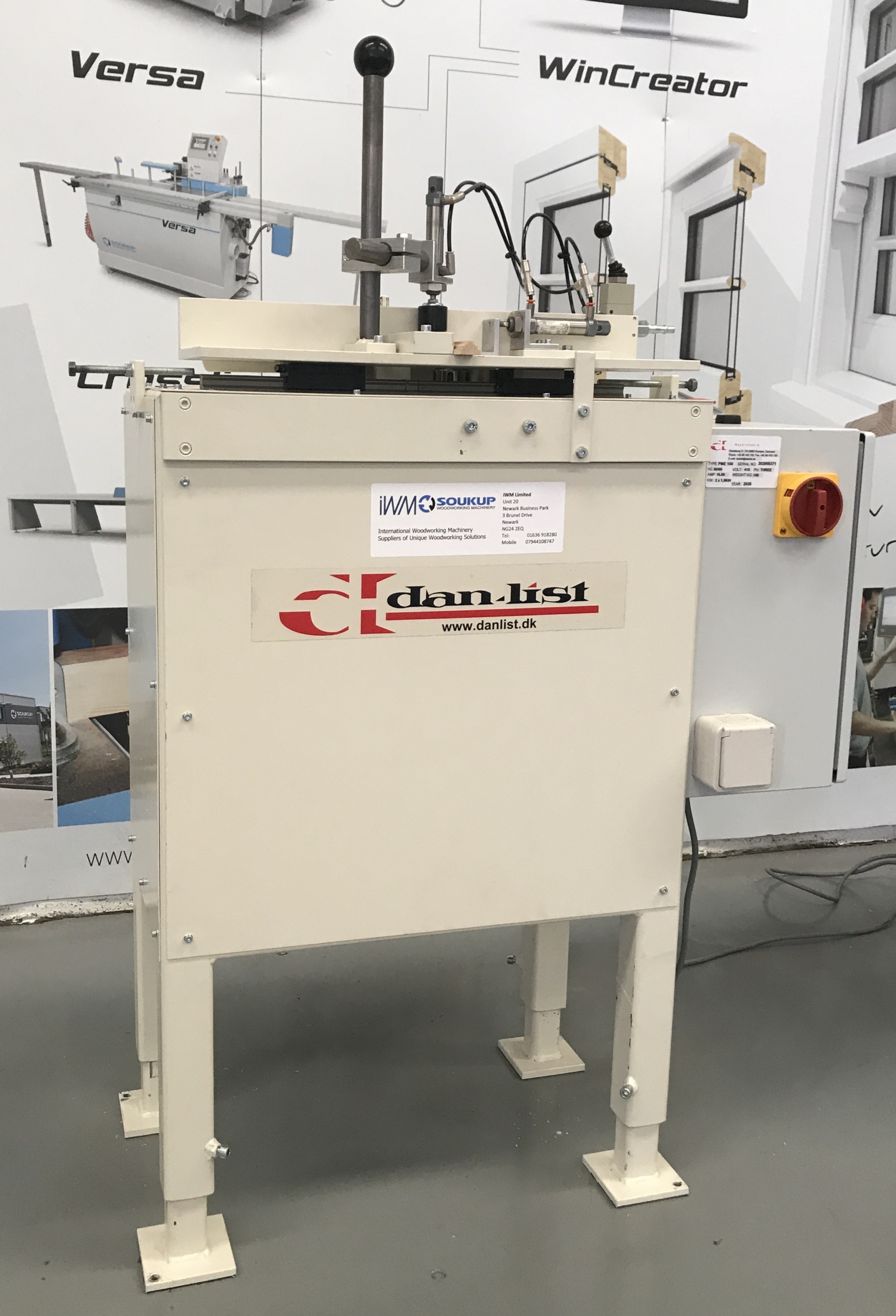 Dan-List
Dan List PME 100 Endscribe Machine
Unique angle beading End Profile Machine capable of 90 and 45 degrees cuts.
Dan List PME 100 Endscribe Machine
The DanList PME 100 Enscriber is a compact machine, built on a solid frame. A manually operated machine with a pneumatic clamping system ensuring that the work piece is kept in place during the work cycle. It has two routers, one on the left (anticlockwise) and one on the right (Clockwise)
The PME 100 has been made for reversed profiling of cross cut timber and the profiling is done by moving the table with the work piece sideways. The two router bits ensures a tear free cut.
The PME 100 can be supplied with a 90 degree cut off saw.
This machine comes complete with a two year guarantee
Specification
Height of routing.   max                         Depending on profile/tooling   Approx 90mm
Width of routing.    max                         Depending on profile/tooling    Approx 90mm
Distance between routers                      Depending on profile/tooling   Approx 120mm
Shaft diameter                                          10mm (shank)
Length of shaft                                          30mm
Diameter of router                                   30mm – 40mm – 50mm   depending on width of the profile
Total height of router                              55mm
Collets for router cutter                          ER25
2 motors for routing 1.0 kW, 400V,  1800 rpm one motor clockwise and one anti clockwise
Pneumatic clamping cylinder
Safety Guard
Emergency Stop.
COPENSTICK End Scribe for Straight and Angle End Profiles
Machine Gallery
Quick Shipping
Call for delivery options
Competitive Finance
Competitive rates on all types of finance
Here to help
If you have any questions or enquiries, please get in touch.