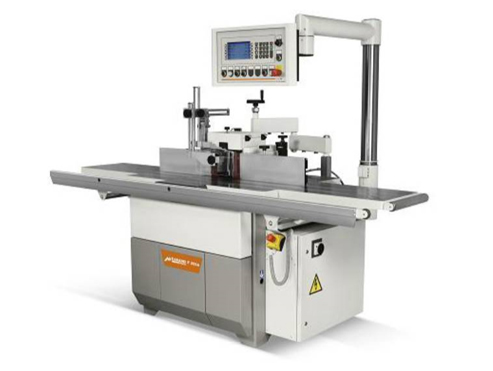 Casadei F255A
Spindle Moulder
IWM offers a full range of Spindle Moulders for Sale. Choose from Manual Rise & Fall to Fully Automatic Spindle Moulders with a host of options to match your exact requirements. Please ask for further details.
Casadei Spindle Moulder
F255A Casadei Spindle Moulder The electrospindle controlled by inverter, the spindle tiltable ± 45,5° and the wide range of options available, make the F 255A spindle moulder suitable for the most demanding users. Advantages: Flexibility: The numerical control can control all the axes installed on the machine. Electronic programming ensures rapid machine set-ups eliminating the need of test runs. With a few keystrokes stored programs can be recalled or new machining quotas inserted. The wide range of options available, including the HSK version, allow any type of machining. Sturdiness: Sturdy steel machine structure. Ribbed cast iron worktable which guarantees no vibrations. The electrospindle tilts over two heavy duty cast iron trunnions. If you would like to find out more information please contact Ian anytime (24/7 response) either by email ibrown@iwmachines.co.uk or call +44 (0)7944 108747.
Quick Shipping
Call for delivery options
Competitive Finance
Competitive rates on all types of finance
Here to help
If you have any questions or enquiries, please get in touch.