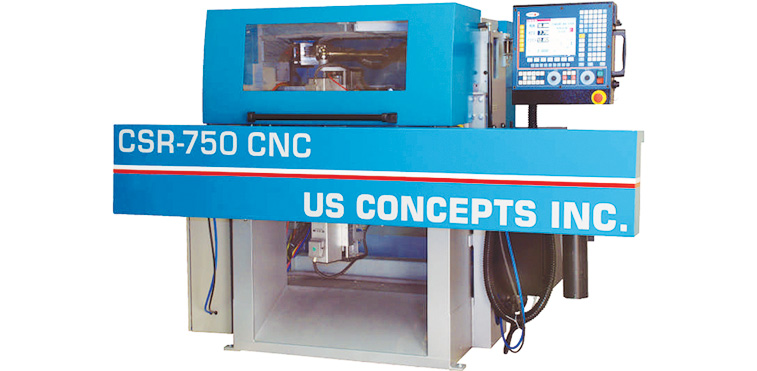 US Concepts Inc
Specialist Stair Machinery
IWM are the UK Agents for the specialist machinery manufacturer US Concepts who manufacture a special range of Stair and Handrail Machines working closely with our customers in order to tailor our machines to their individual needs.
US Concepts – Specialist Stair Machinery
To make the operation of this machine as easy as possible for use by operators of any skill level the CNC unit is preprogrammed for most stair routing application. However, the CSR-750CNC still retains full capability of programming using standard CNC codes. All the operator has to do is simply pick the stair style, enter the rise, run and number of stairs, insert the pair of boards and press the Start button. As the machine takes over, two high speed router motors simultaneously rout both left and right hand stringer with dovetail bit. As a bonus, machine is capable of cutting the open horse stringer and open stringer with 45° riser relief.
US Concepts CNC Stair Router Machine Details
Heavy Duty construction with Cast iron arms and walls
FAGOR CNC 8055i/A 3-axes package
Standard programs:

Standard Box Step with Round Nose
Blunt Nose with Rake or Straight Riser
Open Pan Rout with partial Riser or no Riser
Temporary Stair Rout
Center Open Horse Cut
Open Stringer cut with 45° Riser relief
Two 5HP High speed router motors
Two adjustable speed drive controllers
Automatic board advance every cycle
Networking, and remote data entry and supervision
Max material width 12″
Material thickness: ¾" – 3-1/2″
Tool shank capacity ¾"
Max. feed speed 300 FPM
Communication ports: RS232, USB, network
Machine dimensions 94″L x 60″D x 64″H
Weight approx. 4200 lbs
Dust outlet 8″
Specialist Stair Machinery
Machine Gallery
Quick Shipping
Call for delivery options
Competitive Finance
Competitive rates on all types of finance
Here to help
If you have any questions or enquiries, please get in touch.